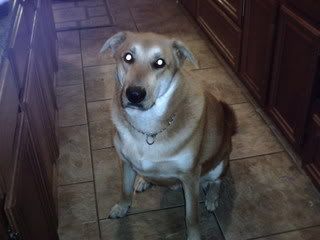 Woah people, it's not what it sounds like. I swear, lol.
But, giggling aside, this is my dog Buddy. If you read my previous posts, he's my hybrid mix family protector / beanbag / aspiring lap dog. At about 120 pounds now, and his head just level with my hip (I'm about 5'6"), I'm afraid he may be a little
too
cuddly. He is overweight, and I'm concerned. My parents and siblings overfeed him. He's in a pen with his brother (that's their "house" when it's sleep time), so when it's food time, Buddy scarfs down a big silver bowl (no joke, like an industrial size mixing bowl) to keep Aero from eating. They never fight over food; Buddy just hogs it. Aero is a normal weight, about 95, and about a half inch shorter than Buddy. I do try to intervene. I take out the bowls, when I see them, and give each dog about 3 cups to eat separately, BUT... I'm not always there, and though I've spoken with my parents, they insist the dogs be allowed to free feed. I've tried to explain that yes, dogs can get diabetes, and yes, they can get arthritis and Buddy's fat isn't going to make him feel any better when it's bearing down on his joints. I no longer give Buddy table scraps. Next time I get money, I plan on buying him a doggie backpack and going hiking since it's getting cold outside.
So... thus begins the transformation. I can only try to get people to stop feeding him so much, but I can definitely up the exercise. Every once in a while I'll let you guys know how he's progressing (it's like having his very own Lifetime drama, lol).
I'd also like to request some information from the readers. If my parents are going to feed him so much, I'd actually prefer it be diet. I've never had to put a dog on a diet before, so I was wondering if any of you more experienced readers could drop me a tip. What are some good brands to look for when putting a dog on a diet? Right now they eat whatever gets picked up from the store (yuck I know, but at least we never bring home Ol' Roy or Kibbles 'n Bits or Beneful), but they're usually on Canidae... which, I heard, went through some nasty ingredient changes and kind of ruined it.